I am currently watching Brooklyn Nine-Nine on Netflix, but I cannot stop thinking about an important issue. Microplastic debris - plastic particles smaller than five millimeters in size - is harming wildlife all over the planet. Especially sea life is affected.
Last year researchers found out that marine mammals stranded around the British coast most likely indirectly ingested plastics by consuming contaminated prey. For your information, the source of the scientific report is added to the bottom of this post. Out of 50 individuals from ten cetacean and pinniped species all were found to contain plastic. In the aggregate, they detected 273 pieces of plastic, 261 of these are classified as microplastics. One juvenile short-beaked common dolphin was found to even contain a green netting - a macroplastic.
[1]
229 of those plastics were fibres, which usually emerge from washing synthetic textiles. The remaining particles, 44 in total, were fragments. Below I added the research figure showing photographic examples and informing about proportion of particle color, size and polymer type. If you like to read through the whole scientific report, visit
this link
, alternatively
this one
.
[1]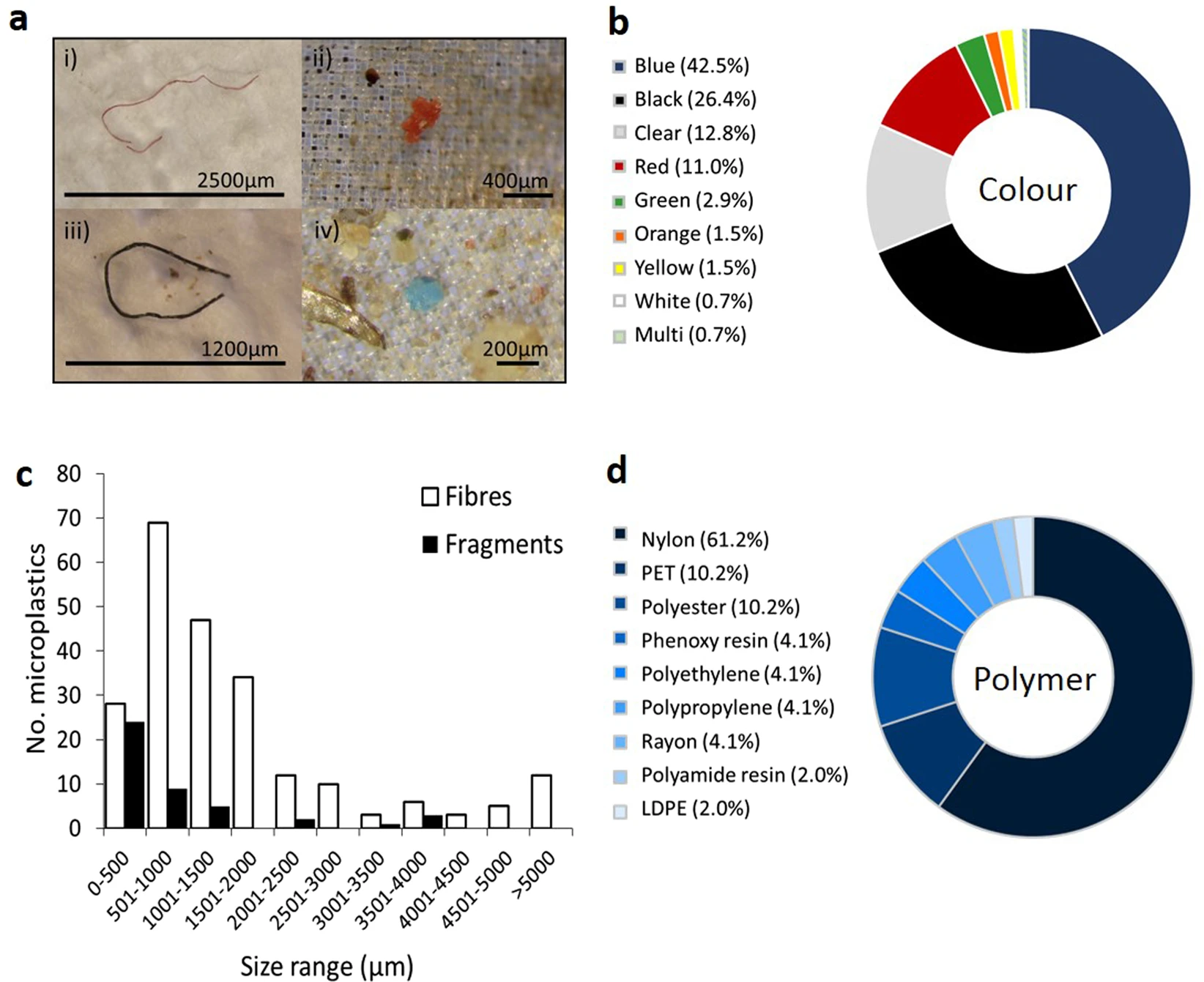 (a) Photographic examples of microplastics found in marine mammal digestive tracts (i) Nylon; (ii) Polyethylene; (iii) Polyethylene terephthalate (PET); (iv) Phenoxy resin (b) proportion of particle colours found in all animals (c) size ranges of particles found in all animals. Note: a small proportion of fibres were larger than 5 mm but were not macroscopically visible and are included here. (d) the proportion of polymer types found [1]
Unfortunately prior data is rare, as the occurrence and observation of environmental issues is a recent phenomenon. But plastics were not invented until 1907, so findings of plastic debris within living organisms is only able to occur ever since.
As you may already know July is known as Plastic Free July for a specific bracket, meaning people try to reduce their plastic consumption this month. To save the environment from any further damage from plastics, especially to let wildlife recover, it is crucial for the whole global population so start rethinking their habits.
To decrease the dispersiveness of plastic debris it is important to stem the production. Although it is unlikely to persuade companies to stop using plastics immediately, every single person is able to get those businesses to rethink their way of packaging or choice of material. By spending your money on products that are environmental-friendly, instead of buying items producing lots of waste, enterprises are going to recognize the importance of switching to and maintaining the usage of eco-friendly materials.
So, what are you able to do in particular? On the one hand it is most helpful to cut out disposables, meaning to avoid buying or using plates, bowls, cups, cutlery and takeaway containers made out of plastic or plastic-coated materials, as well as cling wrap. It is eco-friendlier to use reusable tableware. For example, I use a KeepCup for my coffee or tea on the go, I have a stainless steel lunchbox to store leftovers from eating out and I own a multi-tool pocketknife which includes a fork and spoon, next to the common tools. With these in my cloth bag I am ready to go out and thus to enjoy my coffee to go or store food I was not able to finish. In addition,
FoodHuggers
and beeswax wraps are perfect to cover and carry food. A further item I always bring with me is a reusable drinking straw, whether it is for slurping cocktails or savoring coffees. I am going to talk about my favorite ones in an upcoming post, so stay tuned!
Another way to reduce the output of plastic waste is to buy products made out of durable and high-quality substances, such as glass or stainless steel. Even wood and stone can be ideal materials, depending on what kind of product is manufactured out of it. Alphabet or building blocks for kids are safer and long-lasting when made out of wood. Glass bowls for displaying fruits look more fashionable and expensive than their plastic equivalent. Drinking bottles made out of stainless steel are shatterproof and do not leak toxins - an issue that occurs in plastic bottles. Stone cutting boards - usually marble or granite is used - may damage the grind of your knife at a faster pace, but you are definitely not going to produce plastic fragments ending up in the environment.
Speaking of saving the environment, you may also know that I was born on Earth Day which makes me feel even more responsible for acting eco-friendly at all times. Of course it is not doable to switch to a zero waste lifestyle within a few hours. It actually takes months, even years, to declutter your belongings and change your mindset - I am right in the middle of my journey to this day. But choosing greener alternatives one step at a time is still assistant to creating a more sustainable life. You do not need to swap your plastic food containers for ones made out of glass by discarding the plastic ones. In fact, it is eco-friendlier to use your utensils until they fall apart, instead of switching to environmentally sound alternatives in an instant.
But, exceptions confirm the rule. Try to re- or upcycle food containers or kids toys containing toxins or endocrine disruptors, such as bisphenol A, also known as BPA. Make sure the items are declared free from any harmful chemicals, usually it is written on the packaging and the object, if necessary you can normally look it up on the internet, too. Another material to avoid or discard is melamine. Not only do allegedly eco-friendly dishes made out of bamboo contain plastic in some cases
[2]
, they may also contain melamine and cyanuric acid, able to leach from items by heating, e.g. by putting on hot food. Co-ingestion of these two chemicals results in renal toxicity.
[3]
To cut a long story short, avoiding plastics is not only crucial for saving the earth, it is beneficial for your health as well. Furthermore, selecting durable and eco-friendlier materials is also wallet-friendlier and on top of this more aesthetically pleasing, according to my opinion. As a private end consumer it is not simple to discontinue the amount of plastic produced, but by choosing to spend your money on green alternatives companies may take a hint.
Humans are at fault for plastic-related injuries and deaths in wildlife, as those synthetic materials are man-made. Altering the consumption habits is advantageous to save flora and fauna. Unfortunately it may take some time for the environment to fully recover, but it is going to bring back quality to terrestrial life. Make a switch and #ditchthedisposables. Find inspiration on
PlasticFreeJuly.org
, a campaign hosting the challenge to refuse single-use plastics and also the motivation behind my post. They have a facebook and instagram, too, so you can connect with their belief and follow in their steps.
Is environmentalism important to you? I would love to know the ways you are already avoiding plastic - feel free to comment down below. This month I am going to publish more Plastic Free July posts, so keep an eye on my blog ☺️
xxxx Aga
Scientific Report Source [1]: Nelms, S. E.; Barnett, J.; Brownlow, A.; Davison, N. J.; Deaville, R.; Galloway, T. S. et al. (2019): Microplastics in marine mammals stranded around the British coast: ubiquitous but transitory? In: Scientific Reports 9 (1), S. 1075. DOI: 10.1038/s41598-018-37428-3.
Report Source [2]: Iris Eckstein, Magdalena Lubecki and Dr. Uwe Lauber: Consumer Fraud: Falsely Declared "Ecological" Bamboo Tableware Contains Much Plastic, published 2014-12-23 on CVUA Stuttgart, alternative link.
Scientific Report Source [3]: World Health Organization (WHO): Melamine and Cyanuric acid: Toxicity, Preliminary Risk Assessment and Guidance on Levels in Food, published 2008-09-25, updated 2008-10-30 as PDF file.